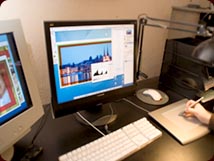 The material and information technology requirements for the production of canvas prints are both expensive and elaborate. Therefore, we can provide canvas wholesale options.
If you would like to purchase a wholesale volume of canvas photo prints, or supply canvas prints to your customers but would rather not invest in the necessary printing and framing equipment, then use Genius Printing.
With trained staff, the right equipment and systems that will save you time and money, Genius Printing is a smart choice for you and your customers.
Canvas wholesale for Artists / Photographers / Resellers
We offer discounts to:
professional / semi-professional photographers
professional / semi-professional digital artists and traditional artists
anyone placing ordering many products over time
anyone using our products in a commercial context
We look at how you'll be using our services as well as the quantities involved (both now and in the future). We then agree on a pricing structure.
If you have end-customers that you deal with, we can ship direct to the customer without any of our information on the box! They will think it came straight from you!
We are the best priced canvas printer in Australia and we still give discounts to resellers. Because of this, we get many, many people wanting to become a reseller every week and we spend a lot of time each week discussing all the options with potential resellers.
As a first step, please fill in the form below. Once your account is approved we can provide you with reseller access to our order system. All the information about our products / services are on this website and most of your questions will likely be answered by browsing our site.
Register for reseller account