Better than a department store voucher!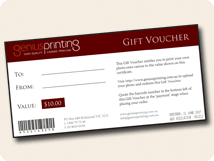 A Genius Printing voucher is a very unique gift to give. Just use the form below and you can order a voucher of any value.
To order a voucher please simply send us an email or give us a call to provide us with the necessary information.
Vouchers are printed onto canvas and sent in the mail. They can usually be sent the same day, or the next working day.
If you'd like to receive your voucher by email, please let us know in the order notes. We will email you a PDF version of the voucher which can be printed and given to your recipient